The needs of home technology are changing.  Because more content being stored in the cloud in services like Microsoft OneDrive, Dropbox, Google Drive, iCloud Drive, and email is synced to a server like iCloud, Gmail, Yahoo/AT&T/Bellsouth and Comcast, people aren't so apt to want to pay to have their old computers cleaned up.  Stick Windows Defender on it, run Malwarebytes every now and don't deviate off of the common places on the internet. Keep Flash, Adobe PDF, Java, and other programs updated.  Don't depend on a client email program like Microsoft Outlook.  Save your data in the cloud with Carbonite.  When it breaks, wipe it clean or throw it out and start over.  Maybe even forego the traditional desktop or laptop and instead buy a tablet and try and live without a computer.  (It won't work... Unless you're prepared to make some serious compromises, but you can try).  Because of these changes in the world, my recommendations have become simplistic.  Go to Peachtree Computers in Roswell.  Buy a used computer.  If you have an external monitor make sure that the computer you choose can communicate with it.  Let them replace the hard drive with a solid state drive (SSD) that is appropriately sized.  Call me and let me migrate it for you.  If you don't want used, go to Costco, forego the SSD and choose one that is pretty.  And then call me.
I look at what my technology environment consists of as the Dunwoody status quo.  Big house, small house, if you're married with kids, it's all the same.  We have 4 iPhones.  We have 2 iPads.  We have two Apple Watches.  My wife works at home with a cool little dell desktop the size of a paperback book.  My boys have gaming computers that I built.  I have a 5 year old 23" all in one desktop computer that came from a client who decided when the hard drive died, that they wanted nothing more to do with it.  I put an SSD in it, installed Windows 10, and now it boots up in 10 seconds.  Not magical, but just knowing what to do.  I have a Chromebook that I tote between SOHO Office and home that stores everything in the cloud.  I have a color laser printer that supports two adults and two kids and does so superbly.  I have an Amplifi HD wireless router with two wireless satellites which was recommended by a Business IT consultant.  I am not sure it's any better then the Netgear Orbi, Google Wifi or anything else that I previously had set up but it sure looks cool!  I want to buy new technology things but everything works.  Until it doesn't.  And when it doesn't, which at some point WILL happen because everything eventually breaks, I am glad I have me in my corner.
The pundits claim Internet of Things (IoT) is the next big thing.  You can load up your house with Amazon Alexas and Google Home devices.  You can have Nest Thermostats and Ring or Hello Doorbells.  You can have a SimpliSafe alarm and a connected Jandy iAqualink pool.  Open your garage door, water your lawn, there's plenty of stuff to buy.  The IoT is taking over.  You can buy in, or say to yourself (and to all of your gift-buyers), "Do I really need that item on the internet?"  I don't need my thermostats available on my iPhone.  Yes, it's cool.  The benefit of lying in bed and adjusting my house's temperature is really neat.  And then I think of the data collection, the availability of the device to hackers, the fact that it's just another thing I don't need to get out of bed to take care of (wait... is that a bad thing?) I had two nest thermostats but I replaced them with two non IoT ones.  I got a Google View as a gift and that's about as far as I'll go.  I think there will be mass push-back on IoT because how can your equipment and privacy be protected and guaranteed?  Remember Equifax?  Office of Personnel Management?  Ashley Madison?
I think the more intriguing new frontier is cord cutting.  Cord cutting is essentially the changing of how we watch content, the cutting of the cable cord.  You're familiar with Netflix, Hulu, maybe Amazon Video, but what about Pluto TV?  Tubi TV?   Crackle?  How about Sling TV?  Youtube TV, Hulu TV, Playstation Vue, Philo, Directv Now?  For the sake of brevity and focus, let's talk about video content and not even bring audio content into the discussion.
The best way to figure out how to craft a cord cutting solution is to simplify and lay out the data of the problem.  Who & What, When, Where and Why?  (As you're testing and honing your answers, keep in mind that all of the streaming services can be ordered on a month-to-month basis and some even have free trial periods (if you remember to cancel because they all want your credit card up front).  No long term contracts!)  The hardware is usually almost "throw-away cheap".  There is no one sized fits all answer.  I am only providing you things to think about and hopefully empowering you to try and tackle this yourself or if not, calling someone like me, of course to help you.
Let's start with WHY.
Why is usually because of two individual drivers or a combination of the two.  One is "My cable bill is $298/month, what do I do?".  The other is "I want to watch Jack Ryan or Marvelous Mrs Maisel and I can't".  If you don't have a good answer to WHY then you don't have a problem.  It won't be worth the work.  If you have both drivers, it's a slam dunk.
WHO & WHAT.
I don't like to intermingle the words content and channels because it's not as clear cut as it used to be.  What content do you absolutely need?  Marvelous Mrs Maisel?  You absolutely need Amazon.  The Super Bowl?  You absolutely need network TV.  Making a Murderer? Netflix. Flip or Flop (the HGTV show)? Hulu, Google Play, YouTube TV, iTunes, Vudu, and Amazon. Now you see the problem. Some content is unique to a provider, some is spread over different providers.  Some of those providers give you it for free, some charge.  Some have Seasons 1,2,3, and 5.  Where's 4?  That's the fun part.  What channels? History? HGTV? Comedy Central? Hallmark?
Then, there are two types of content, streaming TV and on-demand.  On-demand would be where you seek out the program and watch it on your schedule.  Streaming TV would be more of replication of traditional cable channels.  The challenge is that some providers have some channels and some have others.  Some have locals, and some don't.  Some like Sling TV have FOX 5 Atlanta, but no 11 Alive, for example.  ESPN is another example that is available on some systems but not all.
WHEN?
When do you like to watch your programs?  When they air?  On a recording?  Do you like to watch the same show over and over (and over) again?  Some Streaming TV services have a DVR capability with 50 hours, some don't have any at all.
WHERE?
Do you need to watch it on your iPad?  On an old Plasma TV in the basement that you haven't replaced because it "just works"?  On a new 82" LG OLED TV that you placed overlooking your pool?  Are you going to buy a TV as part of your solution?  Great!  Will it natively support, for example, Netflix and Amazon?  Hulu?  Crackle?  Pluto TV? (A lot of different TVs won't, even where one model year of one brand will but another year doesn't.  Are you familiar with Roku, Chromecast, Amazon Fire?  Those devices, independent of the TV, allow access to the different services regardless of the make, model and year build of your TV.
IMPRESSIONS:  What does the Freedman family do?
Since we are two days away from Snowpocolypse 2019, I wanted to bring everyone up to date with what we do for streaming in the Dunwoody PC/SOHO Office Worldwide HQ so while you are sequestered in your home watching it snow(-flake) on Tuesday, you can start trying these services out for yourself.
WHY:  The simple WHY answer is BECAUSE I CAN.  We have been streaming for 10+ years.  I can't even fathom a $300 cable bill.  I don't want cable boxes all over my house.  I want to know that all the cable company needs to be concerned is the internet pipe coming into the house.  I even pay more ($99/month for 350 Mbps) so that I don't have a contract just in case the bigger, better deal comes along.  (I will talk about 5G once the world gets closer to having it a reality).
WHO & WHAT:  I like the stuff I've seen on Netflix and Amazon so they are part of the solution.  Hulu is good for older series.  We don't have a traditional streaming TV service (we have Pluto TV which is more like "I'm bored what's on, let's kill some time on Pluto TV" streaming) because we've learned over time there's nothing on at a set time that we watch.  We don't gather around the TV like previous generations gathered around the radio.  We've tried all of them, literally.  We had Sling TV for years.  We've also tried Playstation Vue, Directv Now, Hulu TV, and Youtube TV. We have 3 Rokus, which are fantastic streaming boxes that work with all of the different services.  They connect to our TV with HDMI cables and provide a very easy interface complete with their own simplistic remote control (up, down, left, right, OK, home and on the more expensive Rokus, a power button and a volume up and down).  You can buy them online or at Walmart, Target and Best Buy. We also have a Roku integrated TV made by TCL in our guest bedroom that even my 77 year old mom thought was easy enough to operate, no offense Mom!  I don't like Chromecast or Amazon Fire except for the ones that have their own remote controls.  I don't want to use a remote control on my phone.
Our solution is made up of:
Rokus:  This is our main TV.  When Roku isn't streaming and it is on, it's an aquarium.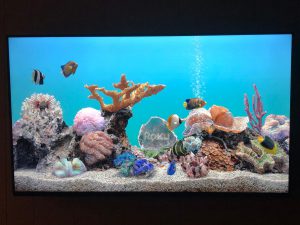 Once you start Roku, this customized screen shows up for us: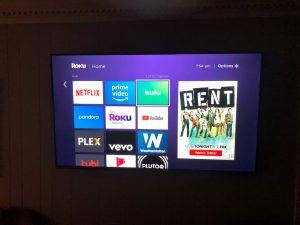 If you choose Weathernation, you get the following: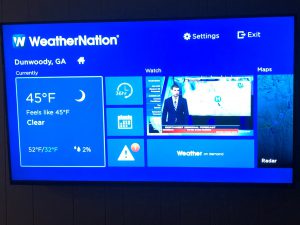 1.  Netflix - $10.99/month for Standard - includes HD - we don't own a 4K TV that would necessitate a better plan, yet. This price is going up to $12.99 which is still a huge bargain. It gives us two screens at a time. Netflix is an all-you-can-eat service, there's no pay per view.
If you choose Netflix, you see this, usually leading with Netflix original content.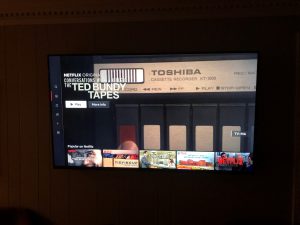 2. Amazon Prime - $119/year - There's a ton of different valuable services including photo storage, music, etc. You obviously also get the shipping discounts. Amazon Video is a mixture of a ton of included content and then pay per view newer stuff. You may stream up to three videos at the same time using the same Amazon account.
3. HULU - $11.99/month - We just downgraded from HULU TV ($40/month going up to $44/month) to the no commercials version of HULU. If I wanted to save $4/month, I could downgrade even further to having commercials.  Tons of content, mostly new TV shows and lots of back episodes (complete Seinfeld, South Park, among others)
4. Pluto TV - Free - Pluto is an aggregator of different channels, like a cable system. There's probably about 100 channels of free content, news, sports, weather, music, etc. Even though it's free, there's inherent value as Viacom just bought them this week for $340 million.
Pluto has a very nice interface.  Hopefully Viacom won't start charging for it.  And if they do, then either it's worth it or it goes away.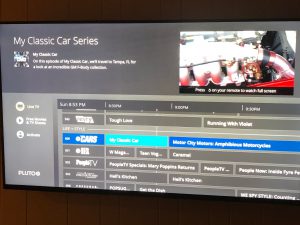 5. The Roku Channel - Free. If you have a Roku player or a Roku TV, you can watch a bunch of free movies and TV with commercial interruption.
6. Pandora - FREE ($3.99 but I have it for my car) - even though this is audio, I am still including it because I link it to my Roku so I can play music on my TV.
7. Plex - FREE ($4.99 but the part where I can play on my TV is free) - Plex is a the technology that allows me to copy all of my DVDs to a computer I built and have them available in the cloud to watch on any streaming device like Roku that supports the technology, as well as my iPad and iPhone.  I was able to get rid of my DVD players because of this.
8.  Crackle, CW Seed & TubiTV - Free - Movies and TV, but with commercial interruption.  CW Seed has a great show called Pushing Daisies that was on ABC a few years ago and is very hard to find in the streaming world.
9.  WeatherNation - free Weather.  Weather Channel hasn't figured out streaming for free yet (Anyone from Weather Channel on the line?  You'd CLEAN UP on advertising!)
10.  YouTube and/or YouTube TV - just like the web site.
11.  Vevo - Music Videos
Local Channels - We have a $40 antenna in our attic that lets us watch local channels on our bedroom TV typically for 11pm weather forecasts, which is roughly 4 times a winter!  We used to have a device called AirTV, which I may buy again, that allows you to rebroadcast local channels to all of your smart TVs (or streaming devices as well as phones and tablets) that support AirTV.
I hope you found this information useful.  As you can see there's no size fits all solutions for this.  If you'd like to sit down and have a consultative discussion and plan on moving you to streaming and away from your big cable bill, please call me anytime.
Here's a few pages to view for more information:
https://www.cordcuttersnews.com/
https://www.netflix.com/browse
https://www.amazon.com/gp/video/getstarted
https://www.sling.com/
https://www.directvnow.com/
https://tv.youtube.com/welcome/
https://www.hulu.com/live-tv
https://try.philo.com/
https://pluto.tv/tv/
https://www.roku.com/
https://www.pandora.com/
https://www.plex.tv/
https://www.sonycrackle.com/
https://tubitv.com/
https://www.airtv.net/products/airtv/
https://www.xumo.tv/
https://www.cwseed.com/
http://www.weathernationtv.com/